How's about a dance tent?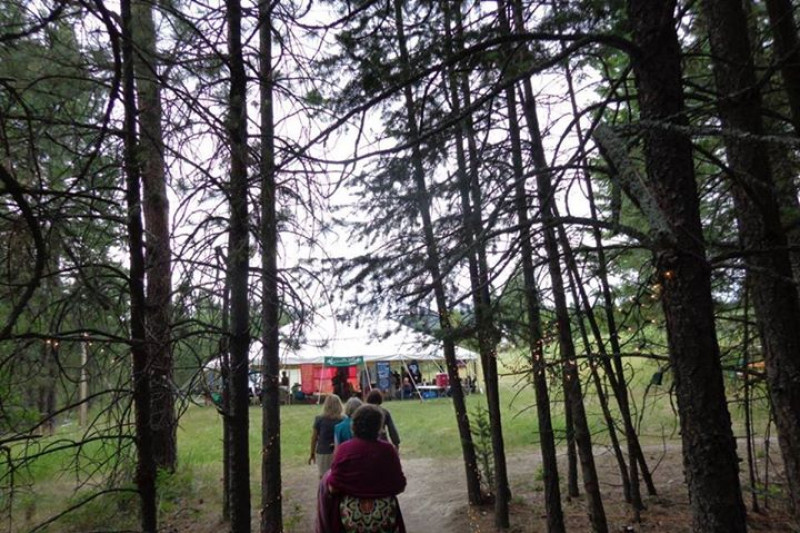 Wouldn't it be wonderful to have our own dance tent?
For anyone who has ever gone to Wilderness Dance Camp, you know the magic of dancing in the round tent in the meadow above camp. If you haven't been you'll find wonderful pictures on the camp's Facebook Page.
Heck … while you are there sign up to come to camp. Wilderness Camp is a full week and an amazing opportunity to deepen into the dance – while enjoying the shores of Flathead Lake.
But back to the tent…
Details
The tent at Wilderness Dance Camp is very large. It's 52′ feet. Colorado dancers also use a similar tent down at Canyonlands. It's a 38′ tent, and you can see pictures of that on their Facebook Page.
We are looking at a 30′ tent from the same company. We are currently storing a set of poles and stakes that we can use to start with at least.
This smaller tent will fit into smaller spaces, be easier to transport, and be lighter to move around and set up. The tents come from the Miami Tent Company. In our research on their pages we find that we can get a 30′ tent using a lighter material, which will be perfect for summer camping. It also has a top that is one piece and won't need to be sewn together during setup – much easier on a hot day.
We've also come up with a solution for the backbreaking work of pounding stakes into the hard Rocky Mountain ground… we are going to get a motorized stake pounder!
Our Plan
Connie and Wayne will manage the tent and keep it at our Salmon, Idaho location. As we build community it can be used throughout the region. So far we've located great places to set up in Salmon, up in the Bitterroot, and in Lava Hot Springs.
We are thinking about setting up in lower altitudes early in the year, and late in the fall (so we will be warm), and in finding a high altitude location for the hot summer days. Something like Stanley, Idaho (easy for Boise folks) or maybe Driggs … great for the Jackson folks. Or how about up in the mountains around Park City… great for the Salt Lake and Colorado folks.
The idea is to support our local dance communities. Our hope is to make camps easy to afford, and in beautiful locations! We'll be able to camp and cook our own food, jam, sing and dance. More dancing makes more opportunities for new dance leaders to learn and grow!
Funding
We have started a GoFundMe page and already have donations!!!!
https://www.gofundme.com/dancetent
Please donate if you can.
Non-Profit Status
We decided to use GofundMe instead of working through a non-profit organization to avoid any potential conflicts on ownership, and to keep the project simple. It's often quite a chore for small non-profits to work through the logistics of running a fundraiser for other groups.
We do understand that some folks need the non-profit writeoff in order to be able to donate. If that is the case for you… please use your donations elsewhere. We are all working for good and there is so much going on these days – vital work that needs all our help.
Here are my suggestions for today:
Rob Quist's Campaign in Montana: This is a very tight race for a House seat. What's wonderful about this campaign is the heartfelt, positive messages that Quist is sending through his commercials. It's crazy to be watching political ads again… and a breath of fresh air to see that positivity and harmony can be part of the political debate. Yes! He's a guitar player.