Newsletters
Get your free Wayne Hug … coming right up!
November 3 to 5, 2017, Lava Hot Springs, Idaho
Hi All,
I've been reading a lot of interesting new philosophies that have been changing my experience of what it means to be human, and how to nourish myself so I can engage with life better. Neuroscience is giving us the most amazing clues to our full magnificance.
The biggest change, for me right now, is a shift in focus from training the little mind to nourishing the big mind — and even a switch on which is which!
Neuroscientists study the mind… like the actual greymatter, physical mind. They say we are over 90% "unconscious" mind, with a small 10% or less of what we would call conscious. All of our education, and most of our spirituality focuses on this thing we call the conscious, but it's the subconscious that dictates almost everything we do and believe.
I started wondering, "What if I switched my focus to the other way around?" What would happen if I started seeing my actual water-and-flesh mind as the most important part of my "self"… what would that be like? Would it be useful? Would it be cool? Would it be easy, or hard?
Turns out it's really easy, and it's very cool.
My first experience was of oneness. I found that in imagining my "self, (the main part of "me") as this actual, physical, organ in my head, including the rivers of neurons running through my body, I realized that my body was of the earth, which meant I was one with everything. Cool, huh?
Fun idea to play with. Who knows where it will go.
What is turning out to be most fun is inventing ways to nourish my subconscious. Forget therapy: delving into the dark, getting in touch with what is already in there. Neuroscientists have discovered that focusing on anything, especially anything negative, just makes it stronger and more embedded. Instead I started focusing on filling the grey matter up with what I want to be in there.
Images and sound are food for the subconscious. The best way to nourish, heal and fill the grey matter with positive images is with spiritual song and dance. I've discovered that every time I get out my guitar and practice dances that I am filling my mind organ with goodness. I know for certain that every time we get together to dance that we magnify the energy with each other.
Another reason to get together and dance… so let's do it.
Our next dance in Lava Hot Springs is November 3 to 4. Who is coming?
We have the hall rented, and the registration form is ready for people to commit to the weekend. It's actually about six weeks away!
Hope to see you soon.
Love
Zareen
P.S. We almost have enough money for the dance tent and are picking out which one to order. More on that later.
Dear Dancers and Friends,
I've failed at more things in my life than I can even count. It's almost like the more I want something, the more I fail at it. Of course, maybe that has something to do with how often I try: when I want something I'm willing to try more times.
Sad, but true.
There is a brighter picture, however. The blessing of failure is our ability to learn from it.
Collective Learning
I'm thinking of failure this morning and how it relates to us coming together as a world-wide community of loving human beings. It seems like I can always see that happening, and yet it never does. I thought we were going in that direction, and then suddenly we make a sharp right turn. What are we learning right now? Could it be that this is the job of living generations today: to find this new way of coming together and make it a living reality? Could it be that we are learning that we need to take this job on more consciously?
Back in my crazy days in the 60's we tried breaking all the rules: that had its limitations! We tried communes: those didn't work out too well. I tried dropping out and hiding in the wilderness: that was kind of a pain. We tried activism, that seemed to help a bit, but it was so hard to agree on anything! It all creates a mind boggle.
Except one thing.
The only thing I have found that works instant magic for human communion is music and dance. Music has rhythm. Feet can move to the rhythm. Song brings our voices together. Even if our minds are going in different directions, when we sing together community happens. When we move together in rhythm, hearts begin to beat as one. What a relief that it just works!
I don't know the answer to all the world's problems (though I keep trying…) but I do know the healing power of  joining hands in a circle and breathing with song. That's why we keep leading weekend retreats. It's an opportunity for us all to take a break from learning from failure. It's a moment of simplicity, relaxation, and togetherness.
I like that.
Sam Lewis was convinced that eating, dancing and praying together would lead to world peace. I think he may be right, as long as we are willing to acknowledge each small step. As long as we all make the effort to show up.
So let's dance!
My heart is happy as I start to make plans for our next dance camp at Lava Hot Springs in November. I have the Lava Senior Center rented for the weekend of November 3-5. I have the registration form ready on the website: http://liveatlava.com. I sent our advertisement in for the DUP website. We have a Facebook event page and I'm going to start advertising that. Melissa and I have been working on great ideas to make food easier. I have a bunch of great new dances from Wilderness Dance Camp.
Can you come?
Love
Zareen, Wayne and the gang.
Dear Dancers and Friends,
Yes. I'm feeling sad. You may be feeling sad as well. I am finding that the rising of so many emotions of grief, sadness and fear is sparking a surge of creativity, and would like to offer some guidance in how to handle the internal world through difficult times.
Happiness and Sadness are One
I've heard so many spiritual teachers talk about how happiness is the meaning of life, and give it way more importance than it deserves. Yes, happiness is great!! It's definitely my preferred emotion, but ultimately it is a weak indicator of reality. It can be a suspicious companion to love. It has a hollowness that we rarely consider.
If we pair happiness with it's friend, sadness, then we start to have a full story.
Suspicious Companion to Love
Imagine you are in a relationship and your expectation is that your partner will always make you happy. That relationship won't last long! Love of another person is the thing that takes us beyond moments of misunderstanding. It takes us through mistakes and even intentional hurt. Love is something that we can choose and project outwards. Happiness is different.
Happiness is a result. You can imagine a happy situation and happiness will flow out. You can get an unexpected surprise and happiness will blossom. A great comedian can bring it out of us over the craziest things. Wonderful music and dance easily brings it on.
Happiness flows out as a response to something. It's not a creator of anything; it is the reward.
A wonderful reward it is. It's a gift to us when we do something kind. It comes to us when we have succeeded at something. It can be the result of hard work, and also comes easily from hard play. I really like it. I'm sure you do too.
When we understand the true nature of happiness then we become much more valuable in our relationships with our partners, and in our participation in our world. If we put happiness in it's true place, as a reward, that makes us ever more eager to do nice things, to learn new tasks, to participate fully.
This is also true for our relationship to our communities and world. If our commitment to each other only goes as deep as how happy that other makes us feel, then we become untrustworthy, we project shallowness, and we will constantly be disappointed. Worse than that, we won't be a force of good when we are needed. Often we are called to do things that make us uncomfortable, and it's how we measure up to those moments that creates our true character as a human being.
Sadness is also a result. As the companion to happiness, (which is an internal reward for something we've done or seen) sadness is the result of something that has happened outside us. If it's internal, then it's the worry of what might happen. In today's world we have many things outside of us that can make us sad. Our response to all of this will create the balance between these states of being.
In other words: when we do something about it, then happiness will come as a gift.
Nature Envelops Us
Enough of that. Our internal world is a marvelously designed gift from nature that helps us navigate our world and come together as decent human beings.
I hope this makes everyone feel a bit better. It makes me feel better to write it. Hard times bring out wells of creativity and I appreciate having people to share this with.
I'm practicing music every day. Can't wait until we get together to dance!
Love,
Zareen
Hi All,
We are back from Wilderness Dance Camp – glowing with energy of course. Below are links to some of the magnificence we created with the dance. If you are wanting to get a sense of what Dances of Universal Peace can do for a group of people, and for each of us individually, please take some time and enjoy the sharing!
Pictures
Beautiful pictures have been added to the Wilderness Facebook Page. A special treat this year was the new "chakra" decorations on the tent. Our tent crew simply outdid themselves (btw: this is what happens when leadership requests that they take it easy and not work so hard on the decorations…)
https://www.facebook.com/pg/WildernessDanceCamp/community/
Beautiful Write-up
Roger Lynn wrote the most beautiful description of dancing that I have ever read, and I want to share it with everyone.
http://roger-sermons-at-plymouth.blogspot.com/2017/08/it-happened-at-dance-camp.html
For those of us who have danced many times, we can only nod and smile, knowing how truly he describes the experience. If you are still wondering what goes on at our camps… this will be magic for you.
Registration ready
Our next event will be November 3-5 in the Senior Center at Lava Hot Springs. I have the registration page ready now, and I also have an updated flyer. Please print and share the flyer throughout your communities.
You can get all that at LiveatLava.com
… and our tent donations!
Tent donations are over $1500!!! It's unbelievable! We are just about half of the cost and very excited. Start looking for great meadows to dance in.
gofundme.com/dancetent
Dance for Peace
I don't know about you… but I think we need to dance for peace more often. Apparently we have a long way to go on this co-journey and want to get there soon!
Love you all
Zareen & Wayne
Hi All,
It's my first time to use Gofundme, so I was a bit slack in getting it all set up right. I thought they would hold all the money until we had enough for our tent… but no. Donations were cut off last week until I set up a bank account and withdrew funds. The good news is that we have had lots of donations and we are back up and running again!
Idaho/Utah/Montana Tent
For those who missed… Wayne and Connie are going to buy a dance tent for communities in the Idaho, Utah and Montana landscape. This is a way to donate. The goal is to have several very inexpensive camp-out events each summer.
When you see me at Wilderness you are going to notice that my neck is just a little bit longer from straining and looking constantly as we drive around… trying to spot perfect meadows!!!! Wayne and I have meadow analysis down to a fine art. Our tent is going to be (almost) exactly two dog-leashes in width. So we go to a meadow, one of us stands in the middle, and the other walks the dog around in a circle analyzing the flatness and quality of the space.
The Gofundme donations are up to $625 – because of the huge generosity of the community! We are open for donations again. We are definitely getting the tent – donations will just determine whether it is this summer or next.
Thanks to everyone.
Putting up the tent
One thing about a dance tent is that it is a lot of work to erect. However, we believe we have overcome the most difficult part. Wayne just bought a motorized post-pounder! That is going to make it easy to get the stakes in the ground! The machine just arrived, and we'll send off some pictures and videos after we fire the thing up and give it a go.
Come to Wilderness Dance Camp and you, too, can experience the wonders of the post pounder!!!
Thanks to everyone for everything you do.
Connie and Wayne
Sometimes I feel like I have the littlest voice, and there is no chance of being heard over the rumble of propaganda engulfing the nation. I've noticed it can even choke up my throat and make my voice squeak!
Fortunately there is a cure.
How to be Heard
One good way to be heard is to have billions of dollars. Apparently you can buy entire media outlets and have them help you say what ever you want to say.
Most of us don't have that option so we need to be more creative.
One great way to be heard is to listen better. I don't mean to sit around in a cave and listen to the wind… I mean to cast your net outwards in many directions and listen to what you find out there. I'm constantly surprised at how often I have something to say, and before I get around to typing or speaking I find that someone else has said it and passed it around. Usually it's much better than the way I was going to say it (especially when my way was going to include numerous, colorful, swear words.)
When I actually stop myself from my headlong, tripping fall forward, I realize that all these voices really are "me" speaking as well. It's as if my consciousness is shared throughout a body of incredible people who are speaking in sync. It's quite a thrill.
Another great thing is to work on our voices. We've been told to shut up so many times. We've been told that our "whining" is annoying and that our vision is wrong so many times that we hold a stopper up in front of our own faces. Sometimes this results in constricted and broken voices. Sometimes this results in awkward and unclear speech. There is no harm, whatsoever, in working on the vehicle to free the sound that needs to come out of us.
That's what singing in a group does!
Anyone who has gone to a dance camp has probably experienced the difference in their voices from the first day to the last. Spending days making sound with each other, moving our bodies and experiencing harmony is such a quick cure. Highly recommended!
Dance in July
Wilderness Dance Camp (July 30-Aug 5) is right around the corner. Bernie Heideman is the director this year, and it sounds like he is putting his magic touch on the week. We are going to be Singing a New World into Existence!
I am planning a Dance Leader Training group that will include many skills for leadership in general. As we all know, timing is everything. I'm hoping to offer a Rhythm Theory class, as well as a class to open our voices. I'm also planning on sharing a toning meditation each morning. So please, Ya'll Come!
Sign up at: http://wildernessdancecamp.com
The Idaho Tent
Big news … and then bigger news!
* We are so amazed at the donations coming in for the new dance tent! Up to $625 already!!! Wayne and Connie are saving money and will donate any remaining balance needed, but donations now help us get there faster!
If you want to spur on the action, here is our Gofundme page: https://www.gofundme.com/dancetent
* AND… Wayne just ordered and received an automatic post pounder!!!! This is going to make putting up the tent so much easier!! We plan on using it up at Wilderness at the end of July and are so excited to make "backbreaking" work less back breaking!
Be sure to like our Facebook page and we'll post pictures as we test out the machine this afternoon. It's going to be HUGE!
https://www.facebook.com/DancesOfUniversalPeaceLiveAtLavaIdaho/
Lava Dance Dates
I just called the Lava Senior Center and reserved dates for our next two dances. So put these dates on your calendar:
Fall 2017 – November 3, 4 and 5
Spring 2018 – April 27, 28, 29
We are also working with Ginger Nuria to have leadership training at these camps. So stay tuned for more of that.
Let's open our hearts and sing!
Connie Zareen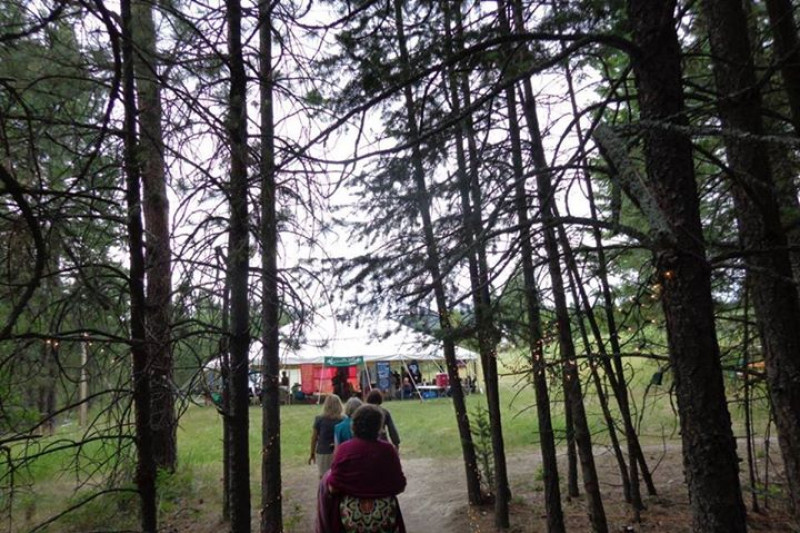 Wouldn't it be wonderful to have our own dance tent?
For anyone who has ever gone to Wilderness Dance Camp, you know the magic of dancing in the round tent in the meadow above camp. If you haven't been you'll find wonderful pictures on the camp's Facebook Page.
Heck … while you are there sign up to come to camp. Wilderness Camp is a full week and an amazing opportunity to deepen into the dance – while enjoying the shores of Flathead Lake.
But back to the tent…
Details
The tent at Wilderness Dance Camp is very large. It's 52′ feet. Colorado dancers also use a similar tent down at Canyonlands. It's a 38′ tent, and you can see pictures of that on their Facebook Page.
We are looking at a 30′ tent from the same company. We are currently storing a set of poles and stakes that we can use to start with at least.
This smaller tent will fit into smaller spaces, be easier to transport, and be lighter to move around and set up. The tents come from the Miami Tent Company. In our research on their pages we find that we can get a 30′ tent using a lighter material, which will be perfect for summer camping. It also has a top that is one piece and won't need to be sewn together during setup – much easier on a hot day.
We've also come up with a solution for the backbreaking work of pounding stakes into the hard Rocky Mountain ground… we are going to get a motorized stake pounder!
Our Plan
Connie and Wayne will manage the tent and keep it at our Salmon, Idaho location. As we build community it can be used throughout the region. So far we've located great places to set up in Salmon, up in the Bitterroot, and in Lava Hot Springs.
We are thinking about setting up in lower altitudes early in the year, and late in the fall (so we will be warm), and in finding a high altitude location for the hot summer days. Something like Stanley, Idaho (easy for Boise folks) or maybe Driggs … great for the Jackson folks. Or how about up in the mountains around Park City… great for the Salt Lake and Colorado folks.
The idea is to support our local dance communities. Our hope is to make camps easy to afford, and in beautiful locations! We'll be able to camp and cook our own food, jam, sing and dance. More dancing makes more opportunities for new dance leaders to learn and grow!
Funding
We have started a GoFundMe page and already have donations!!!!
https://www.gofundme.com/dancetent
Please donate if you can.
Non-Profit Status
We decided to use GofundMe instead of working through a non-profit organization to avoid any potential conflicts on ownership, and to keep the project simple. It's often quite a chore for small non-profits to work through the logistics of running a fundraiser for other groups.
We do understand that some folks need the non-profit writeoff in order to be able to donate. If that is the case for you… please use your donations elsewhere. We are all working for good and there is so much going on these days – vital work that needs all our help.
Here are my suggestions for today:
Rob Quist's Campaign in Montana: This is a very tight race for a House seat. What's wonderful about this campaign is the heartfelt, positive messages that Quist is sending through his commercials. It's crazy to be watching political ads again… and a breath of fresh air to see that positivity and harmony can be part of the political debate. Yes! He's a guitar player.
Dear all,
We are all home from our weekend at Lava Hot Springs, and it was a special time.
You can see some pictures on this page:
https://www.facebook.com/events/196884084049009/permalink/233148357089248/
… including Salim's amazing asparagus dish for the potluck.
And wow! Food
Speaking of food… it was the most amazing potluck I've ever seen on Friday night. Everything from quiche variety, to beet soup and grass fed franks and beans! Even a huge New York cheese cake!
Our wonderful dance leader Melissa did a fabulous job in cooking all weekend. Not only did she provide us fabulous food, but she has created some amazing structures to help make the camp more delicious and easy in the future. Next retreat is going to be just as easy and delicious!
Steeped in beauty
Most touching was the quality of hearts that came and shared being this weekend. Each person was so present, so full of dance and song and life that it was a joy each day.
We have a wonderful practice to share with everyone: As we move away from Earth Day weekend 2017 do some thinking of where you feel indigenous to. Find a friend and share your stories. It's amazing how easy and deep we can all go into this question, and how it informs the way we move on the earth.
Love to all and hope to see you next fall. Stay tuned for announcements as we schedule the next retreats.
Zareen & Wayne
Hi All,
Lava Hot Springs dance camp is this weekend. We still have room if you can suddenly make it. We also have a few beds left at the free cabin, 5 miles out of town, and also have a bit of space in the house we rented near the Senior Center. Let me know if you can come.
Note: there is going to be a clothing exchange on Saturday afternoon! Start going through your closets.
More camps
If you can't make it, never fear! There are some more great retreats coming up here in the Northland of America!
Take a trip to Canada! June 28- July 2 – in Kaslo BC. It's at the Johnson's Landing Retreat Center which is located at the base of the Purcell Wilderness Conservancy Provincial Park and the Fry Creek Trail head, and overlooks Kootenay Lake. More on this page: http://www.johnsonslandingretreat.bc.ca/workshops/test/
On Flathead Lake, Montana. Wilderness Dance Camp is July 30 to August 5. Bernie Heideman is the Guide this year with a theme of coming from the heart. With guests Grace Marie and Aslan Sattler. http://wildernessdancecamp.com
Spring Canyonlands is May 3-8 — there is also a Canyonlands in the fall, but looks like the date isn't published yet.
For lots of other dance opportunities check out this page: https://dancesofuniversalpeacena.org/na/allonetimeevents.asp
Big Smile
Do you need a big smile today? Watch this!